Types of luxury vinyl
When it comes to fulfilling your most pressing function requirements, while also offering up endless style, nothing does it quite like luxury vinyl flooring. Truly, there are luxury vinyl options made for every type of space, whether your style is classical or cutting edge. Enjoy looks inspired by natural hardwood, glossy granite, or colorful tile, without ever worrying about spills, damages, or a hefty price tag.
At City Carpets Carpet One Floor & Home we have all kinds of luxury vinyl flooring choices, including plank and tile, sheet vinyl, WPC, and rigid core. Understanding the differences between the vinyl types is a critical step in ensuring you pick a product with all the functional features your life requires. Here are a few things to keep in mind.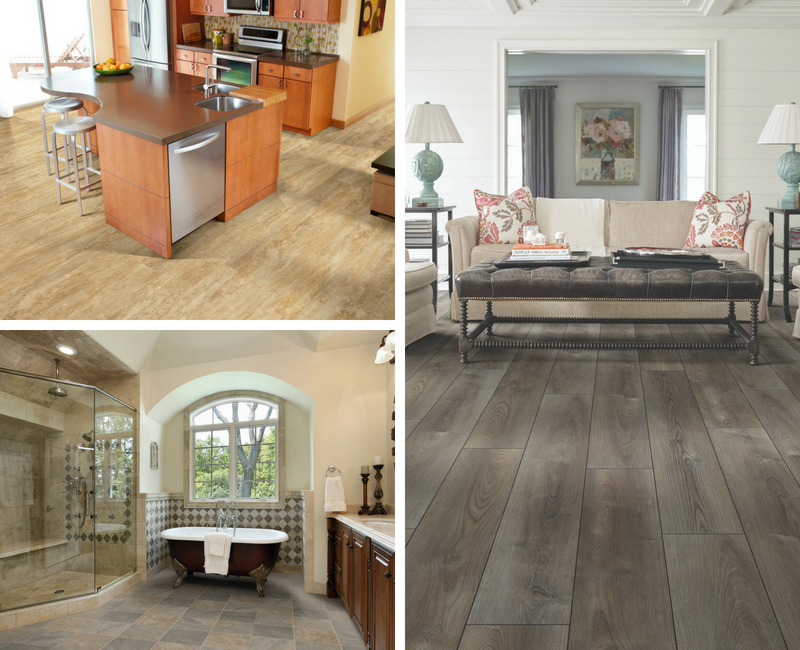 Sheet vinyl
Sheet vinyl has been around for many, many years. However, newer printing technologies have resulted in amazing visuals that really capture the grains of real hardwood, as well as other pricier materials. Sheet vinyl is moisture resistant, can be installed with minimal seams, and is sold in convenient rolls. It's extremely affordable and is often used by property managers.
WPC vinyl
WPC, or wood plastic composite flooring, is a very durable luxury vinyl type that's considered to be 100% waterproof. WPC is a natural choice for classrooms, hospital rooms, and industrial kitchens. But you won't want to write off these lovely tiles and planks for your home, either.
Rigid Core
A hybrid luxury vinyl that's waterproof, literally, to its very core, rigid core has many appealing features. It is warm to stand on, comfortable to walk on, and can withstand extremely heavy use. Rigid core is so easy to install, and so realistic in its visuals, it's a great choice for all types of spaces.